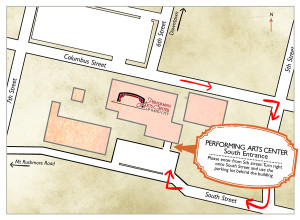 The daytime Box Office is located on the 3rd floor entrance to the Center building at the corner of the complex. Take the
South St. entrance
from 5th street west, up the hill to the parking lot and enter near the southeast corner of the complex. The Box Office accepts cash, checks, Visa, Mastercard, and Discover. Please remember to check your tickets before leaving the window as all sales are final – tickets cannot be refunded unless the show is sold out and your tickets can be resold.
3 WAYS TO BUY YOUR TICKETS
Parking Information:
For performances in the Historic Theater, which uses the main entrances to Rapid City High School on Columbus Street, there is ample parking on Columbus Street and the City parking lot across Columbus Street from Rapid City High School.
For performances in the Studio Theater there is limited parking, including disabled parking available by taking 5th Street to South Street. There is also a parking lot on the corner of 5th Street and Columbus Street (accessed off of 5th Street). Access to the Studio Theater from the 5th Street parking lot is through the East entrance of Rapid City High School and up to the 3rd floor via elevator or stairs. This entrance is not wheelchair accessible. Use the South Street parking entrance for accessible parking and drop-off.